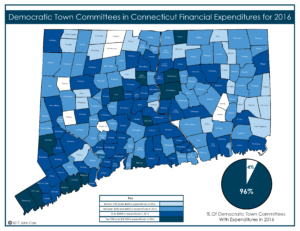 Connecticut is a state where Republicans are seriously giving the Democrats a run for their money, the State Senate has parity with Senators, and Democrats only have a slight majority in the State House. In local politics, we find there's a high chance, 96%, that a Connecticut Democratic Town Committee will spend.
Though the expenditure statistic doesn't tell us where the cash is being spent, most hopefully, on electioneering and canvassing, where Democratic Town Committees do spend it's an indicator that the committee is active.
Reviewing the expenditures spent by Democratic Town Committees in 2016 I was surprised to find 96% of committees are financially active. Especially after having previously discovered 41% of Democratic Town Committees in Massachusetts are spending.
Why the difference Between MA & CT?
Why are Massachusetts Democratic Town committees so inactive compared to their counterparts in Connecticut? It could be various reasons, one, there's more reason to be active, in Massachusetts the State House has a Super majority while Connecticut is much more competitive for Republicans.
Though I wonder what else is happening in the state at the local level, it's not just that 96% of DTCs are spending money, at the top end of spending, Towns in Connecticut are raising high amounts, in the thirty-thousand-dollar level.
What do you think? Why are Connecticut Democratic Town Committees so much more active compared to their counterparts in Massachusetts?
Problems With The Data?
I think there are some problems with the data. I pulled the financial expenditures by local political committee off the Connecticut Secretary of State's website. In a couple of instances, I'm seriously wondering whether all the reported data for each town is correct? It seems strange that two towns, Glastonbury and Somers, spent more than the Connecticut Democratic State Party, especially as both towns have so few reported expenditures for the rest of the year. However, I'm leaving the data in, until updated by the state or reported by the town DTC, to highlight the potential issue with the data.
Here's the table showing each expenditure by Democratic Town Committee in Connecticut, lowest amount first to highest, then the list of towns that didn't report any expenditures. I also left the Connecticut Democratic State Party expenditures for 2016 in the table for comparison.
Analysis of The Presidential Election
Reviewing the results of the Presidential Election, check out this map of data from ProudNewEnglander on DailyKos about the Presidential Election. Is there any correlation between low funding for Democratic Town Committees and Republican wins?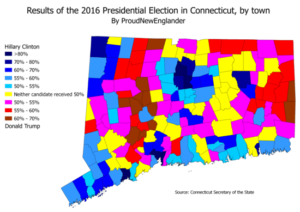 | | |
| --- | --- |
| Committee |  Amount |
| North Stonington Democratic Town Committee |  $            60.00 |
| Granby Democratic Town Committee |  $            72.66 |
| Union Democratic Town Committee |  $            90.72 |
| Salem Democratic Town Committee |  $          103.43 |
| Bethlehem Democratic Town Committee |  $          109.00 |
| Colebrook Democratic Town Committee |  $          118.32 |
| Sterling Democratic Town Committee |  $          134.78 |
| Lisbon Democratic Town Committee |  $          173.20 |
| North Canaan Democratic Town Committee |  $          196.24 |
| Scotland Democratic Town Committee |  $          199.50 |
| Voluntown Democratic Town Committee |  $          233.10 |
| Ellington Democratic Town Committee |  $          248.57 |
| Canaan Democratic Town Committee |  $          260.79 |
| North Branford Democratic Town Committee |  $          365.00 |
| Easton Democratic Town Committee |  $          373.48 |
| Winchester Democratic Town Committee |  $          374.70 |
| Chaplin Democratic Town Committee |  $          394.89 |
| Griswold Democratic Town Committee |  $          411.24 |
| Monroe Democratic Town Committee |  $          441.00 |
| Eastford Democratic Town Committee |  $          446.14 |
| Cromwell Democratic Town Committee |  $          450.00 |
| Morris Democratic Town Committee |  $          489.59 |
| Avon Democratic Town Committee |  $          591.40 |
| Sprague Democratic Town Committee |  $          650.00 |
| Southbury Democratic Town Committee |  $          652.86 |
| Cornwall Democratic Town Committee |  $          661.74 |
| Hebron Democratic Town Committee |  $          669.60 |
| New Hartford Democratic Town Committee |  $          683.84 |
| Beacon Falls Democratic Town Committee |  $          689.73 |
| East Granby Democratic Town Committee |  $          718.00 |
| Thomaston Democratic Town Committee |  $          839.85 |
| Norwich Democratic Town Committee |  $          865.58 |
| Ledyard Democratic Town Committee |  $          878.77 |
| Brooklyn Democratic Town Committee |  $          915.78 |
| Andover Democratic Town Committee |  $          938.25 |
| Columbia Democratic Town Committee |  $          947.51 |
| Harwinton Democratic Town Committee |  $          950.69 |
| Bolton Democratic Town Committee |  $      1,110.51 |
| Willington Democratic Town Committee |  $      1,120.30 |
| Thompson Democratic Town Committee |  $      1,145.45 |
| Canterbury Democratic Town Committee |  $      1,179.30 |
| Windsor Locks Democratic Town Committee |  $      1,266.30 |
| Norfolk Democratic Town Committee |  $      1,281.94 |
| Canton Democratic Town Committee |  $      1,372.02 |
| Burlington Democratic Town Committee |  $      1,377.02 |
| Goshen Democratic Town Committee |  $      1,407.20 |
| Woodstock Democratic Town Committee |  $      1,426.75 |
| Shelton Democratic Town Committee |  $      1,442.99 |
| Oxford Democratic Town Committee |  $      1,447.18 |
| Plainfield Democratic Town Committee |  $      1,500.27 |
| North Haven Democratic Town Committee |  $      1,508.94 |
| Sharon Democratic Town Committee |  $      1,513.11 |
| Wallingford Democratic Town Committee |  $      1,540.75 |
| Prospect Democratic Town Committee |  $      1,626.28 |
| Hartford Democratic Town Committee |  $      1,790.56 |
| Hampton Democratic Town Committee |  $      1,796.67 |
| Washington Democratic Town Committee |  $      1,868.61 |
| Old Lyme Democratic Town Committee |  $      1,967.14 |
| East Windsor Democratic Town Committee |  $      2,146.28 |
| Putnam Democratic Town Committee |  $      2,146.63 |
| Watertown-Oakville Democratic Town Committee |  $      2,211.01 |
| Haddam Democratic Town Committee |  $      2,321.84 |
| Rocky Hill Democratic Town Committee |  $      2,324.67 |
| New Fairfield Democratic Town Committee |  $      2,418.71 |
| Middlebury Democratic Town Committee |  $      2,521.48 |
| Montville Democratic Town Committee |  $      2,529.89 |
| Kent Democratic Town Committee |  $      2,547.59 |
| Killingworth Democratic Town Committee |  $      2,568.12 |
| Bridgewater Democratic Town Committee |  $      2,579.87 |
| Westbrook Democratic Town Committee |  $      2,659.68 |
| Ansonia Democratic Town Committee |  $      2,718.46 |
| Suffield Democratic Town Committee |  $      2,722.60 |
| Lebanon Democratic Town Committee |  $      2,812.73 |
| Lyme Democratic Town Committee |  $      2,934.42 |
| Pomfret Democratic Town Committee |  $      3,029.63 |
| Sherman Democratic Town Committee |  $      3,295.24 |
| Tolland Democratic Town Committee |  $      3,343.47 |
| Woodbury Democratic Town Committee |  $      3,576.17 |
| Ashford Democratic Town Committee |  $      3,592.55 |
| Stafford Democratic Town Committee |  $      3,806.79 |
| East Haven Democratic Town Committee |  $      3,808.66 |
| Marlborough Democratic Town Committee |  $      3,903.33 |
| Enfield Democratic Town Committee |  $      4,142.18 |
| East Haddam Democratic Town Committee |  $      4,152.80 |
| Wolcott Democratic Town Committee |  $      4,180.83 |
| Old Saybrook Democratic Town Committee |  $      4,634.88 |
| New London Democratic Town Committee |  $      4,730.77 |
| Woodbridge Democratic Town Committee |  $      4,862.70 |
| Madison Democratic Town Committee |  $      4,895.38 |
| Portland Democratic Town Committee |  $      5,039.49 |
| Chester Democratic Town Committee |  $      5,148.36 |
| Litchfield Democratic Town Committee |  $      5,150.24 |
| Weston Democratic Town Committee |  $      5,195.72 |
| Plymouth Democratic Town Committee |  $      5,240.61 |
| Coventry Democratic Town Committee |  $      5,652.53 |
| Farmington Democratic Town Committee |  $      5,998.68 |
| Plainville Democratic Town Committee |  $      6,014.60 |
| Waterbury Democratic Town Committee |  $      6,144.16 |
| East Lyme Democratic Town Committee |  $      6,293.22 |
| Redding Democratic Town Committee |  $      6,518.11 |
| Windsor Democratic Town Committee |  $      6,695.83 |
| Middletown Democratic Town Committee |  $      6,748.39 |
| Clinton Democratic Town Committee |  $      7,157.34 |
| East Hampton Democratic Town Committee |  $      7,215.62 |
| East Hartford Democratic Town Committee |  $      7,355.49 |
| Derby Democratic Town Committee |  $      7,552.82 |
| Colchester Democratic Town Committee |  $      7,602.76 |
| Vernon Democratic Town Committee |  $      7,827.31 |
| Deep River Democratic Town Committee |  $      7,998.31 |
| Cheshire Democratic Town Committee |  $      8,086.03 |
| Seymour Democratic Town Committee |  $      8,383.66 |
| Newtown Democratic Town Committee |  $      8,388.89 |
| Brookfield Democratic Town Committee |  $      8,591.03 |
| Killingly Democratic Town Committee |  $      8,644.45 |
| Torrington Democratic Town Committee |  $      8,884.12 |
| Wilton Democratic Town Committee |  $      8,963.96 |
| Bloomfield Democratic Town Committee |  $      9,105.79 |
| Salisbury Democratic Town Committee |  $      9,340.03 |
| Newington Democratic Town Committee |  $      9,560.36 |
| Windham Democratic Town Committee |  $      9,975.62 |
| Norwalk Democratic Town Committee |  $    10,006.67 |
| South Windsor Democratic Town Committee |  $    10,042.76 |
| Preston Democratic Town Committee |  $    10,097.60 |
| Darien Democratic Town Committee |  $    10,283.28 |
| Stratford Democratic Town Committee |  $    10,420.34 |
| Simsbury Democratic Town Committee |  $    10,493.51 |
| Hamden Democratic Town Committee |  $    10,685.52 |
| New Canaan Democratic Town Committee |  $    10,993.36 |
| Essex Democratic Town Committee |  $    11,207.16 |
| Bethany Democratic Town Committee |  $    11,288.51 |
| New Milford Democratic Town Committee |  $    11,659.82 |
| Waterford Democratic Town Committee |  $    12,041.80 |
| Berlin Democratic Town Committee |  $    12,490.59 |
| Bethel Democratic Town Committee |  $    12,621.25 |
| Southington Democratic Town Committee |  $    12,655.64 |
| Orange Democratic Town Committee |  $    13,327.96 |
| New Britain Democratic Town Committee |  $    13,375.75 |
| Groton Democratic Town Committee |  $    13,445.95 |
| Milford Democratic Town Committee |  $    13,984.29 |
| Ridgefield Democratic Town Committee |  $    14,366.65 |
| Wethersfield Democratic Town Committee |  $    14,483.57 |
| Meriden Democratic Town Committee |  $    14,594.28 |
| Stonington Democratic Town Committee |  $    15,803.90 |
| West Haven Democratic Town Committee |  $    16,555.23 |
| New Haven Democratic Town Committee |  $    16,792.75 |
| Guilford Democratic Town Committee |  $    16,861.40 |
| Durham Democratic Town Committee |  $    16,936.57 |
| Mansfield Democratic Town Committee |  $    17,712.26 |
| Trumbull Democratic Town Committee |  $    18,570.48 |
| Greenwich Democratic Town Committee |  $    18,941.28 |
| West Hartford Democratic Town Committee |  $    19,055.57 |
| Bristol Democratic Town Committee |  $    21,138.87 |
| Branford Democratic Town Committee |  $    21,275.62 |
| Westport Democratic Town Committee |  $    21,503.76 |
| Middlefield Democratic Town Committee |  $    22,230.01 |
| Bridgeport Democratic Town Committee |  $    26,750.02 |
| Fairfield Democratic Town Committee |  $    28,705.14 |
| Danbury Democratic Town Committee |  $    31,123.40 |
| Stamford Democratic City Committee |  $    34,405.45 |
| Manchester Democratic Town Committee |  $    34,566.35 |
| Democratic State Central Committee |  $  106,628.80 |
| Glastonbury Democratic Town Committee |  $  117,042.98 |
| Somers Democratic Town Committee |  $  880,675.22 |
| Barkhamsted | |
| Bozrah | |
| Franklin | |
| Hartland | |
| Naugatuck | |
| Roxbury | |
| Warren | |