We've seen some progress with the number of organized Democratic committees being organized since my last map was created in February.  24 new towns appear on the map.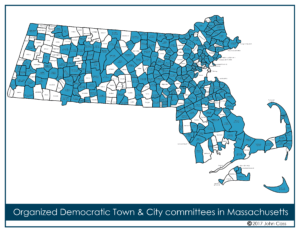 Here's the list of towns added to the map:
Adams 3/27/2017
Avon 4/5/2017
Brookfield 3/24/2017 error
Chester 4/6/2017
East Longmeadow 3/31/2017
Georgetown 2/21/2017
Lenox 3/31/2017
Lunenburg 3/22/2017
Monson 3/29/2017
New Marlborough 4/4/2017
Paxon 4/3/2017
Pelham 3/2/2017
Plainville 3/22/2017
Princeton 4/3/2017
Rowe 3/16/2016 error
Rowley 3/29/2017
Seeknonk 3/2/2017
Stoughton 11/4/2016 error
Sudbury 6/27/2016 error
Upton 3/3/2017
Wareham 3/10/2017
Wayland 12/14/2016 error
Webster 4/5/2017
Wendell 2/27/2017
West Springfield 3/31/2017
Westwood 2/21/2017
Worthington 3/21/2017
Problems With Data
You'll notice five of the organized democratic committees have notations next to them with the word "error". I pulled the statement of organized Democratic local political committees from the Office of Campaign and Political Finance's website. There's a report we can download that lists every town's date of organization since last Spring's Presidential Primary.
A colleague noticed on my original map that Stoughton wasn't organized, yet it had been, and the paperwork had been sent into the OCPF.
Interestingly,  the data is in the individual OCPF reports by filtering. However, for some reason for Stoughton this data wasn't pulling the date of the Statement of organization in the overall report of towns in Massachusetts.
Based on this finding, I went back and checked all of the towns in Massachusetts and found four more "errors".
Stoughton's chair had contacted the OCPF and had already updated their file, so the data was downloading correctly, but the other four towns were still not correctly pulling data. This week I let the Auditor at the OCPF know about the error, and hopefully the towns will be updated. It would also be good to find out why the problem occurred.
The problem was that while the statement of organization is listed in the Correspondence Tab, if you check the Summary tab the date isn't pulling.
Percentage of Organized Towns
We've jumped from 61% to 68% in the number of organized Democratic town committees.
Organized doesn't mean a committee is actively participating though. And without a direct survey, with calls to each chair or committee it's tough to easily determine how many committees working on elections.
My other map of financial activity does provide some insights. I believe 41% of DTC's file financial data with the State. But only 31% of town committees spend more than $100 on the part of the committee.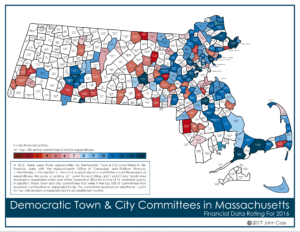 Newly Organized Democratic Committees – Braintree
I'm missing one town, Braintree, as this week the Braintree DTC organized and now has a full slate of officers. The committee hadn't met for five years to discuss committee business except for caucuses. The previous chair was re-elected chair.